SC Braga will face Copenhagen, FC Baggio and Arman in the group stages
---
Three draws took place at the Beach Soccer Worldwide headquarters on Friday, to decide the groups for the Euro Winners Cup, Women's Euro Winners Cup and the Euro Winners Challenge.
Ricardo Garcia and Rafael Devisate from the BSWW Competitions Department oversaw the draws, and the Mayor of Nazaré, Walter Chicharro, also featured, with a message of welcome to the teams.
Euro Winners Cup
In the Euro Winners Cup, 32 teams were split into eight groups, as three-time champions SC Braga are set to face Copenhagen BSC (DEN), FC Baggio (FIN) and Arman Pablodar (KAZ).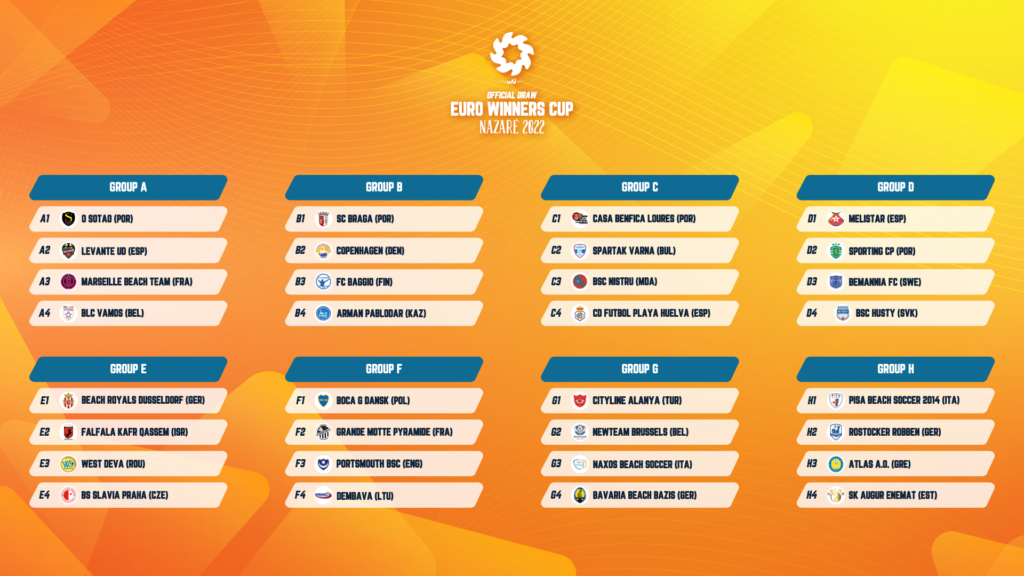 Hosts ACD O Sótão were drawn in Group A with Spanish giants Levante UD, Marseille BT and new-comers BLC Vamos from Belgium.
Italian champions Pisa BS were drawn alongside Rostocker Robben (GER), Atlas AO (GRE) and SK Augur Enemat (EST), while Portuguese giants Sporting CP, 2020 national champions, will battle in the same group as Spanish league winners Melistar, Bemannia (SWE) and another debutant, BSC Husty from Slovakia.
Women's Euro Winners Cup
In the women's competition, 20 teams were drawn into five groups as hosts Sótão where put in a group with Higicontrol from Spain, Amnéville from France and SC Rappiranhas from Switzerland, as well as one team which is yet to be confirmed.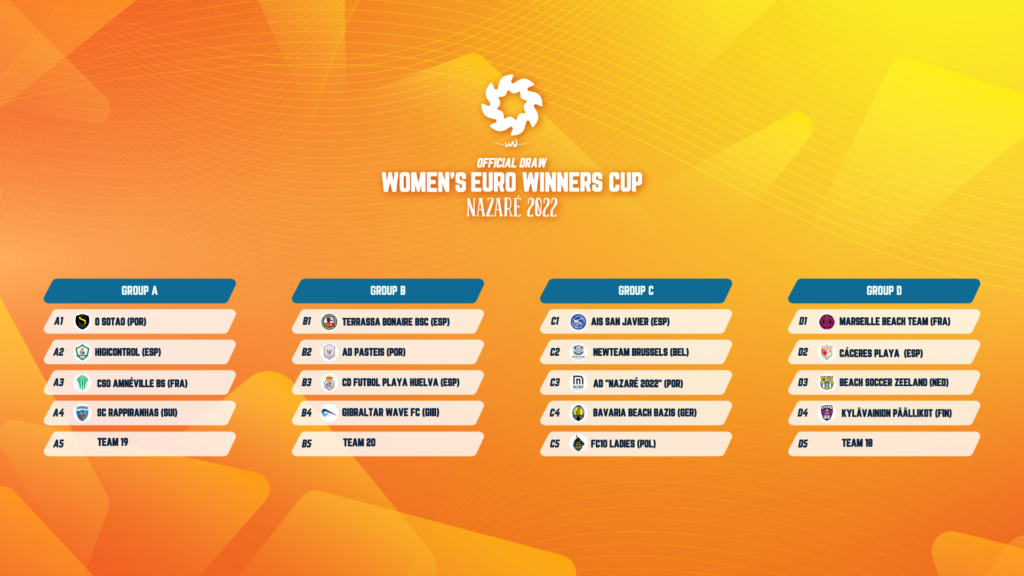 Meanwhile, former champions AIS Playas de San Javier took the top seeded spot in Group C, and were joined by NewTeam Brussels (BEL), AD Nazaré 2022 (a local side competing in the Women's Euro Winners Cup for the first time), Bavaria Beach Bazis from Germany and FC10 Ladies from Poland, also competing for the first time.
Euro Winners Challenge
In the preliminary tournament, which will serve as a route to the Euro Winners Cup for the teams who didn't qualify, 28 teams were drawn into seven groups.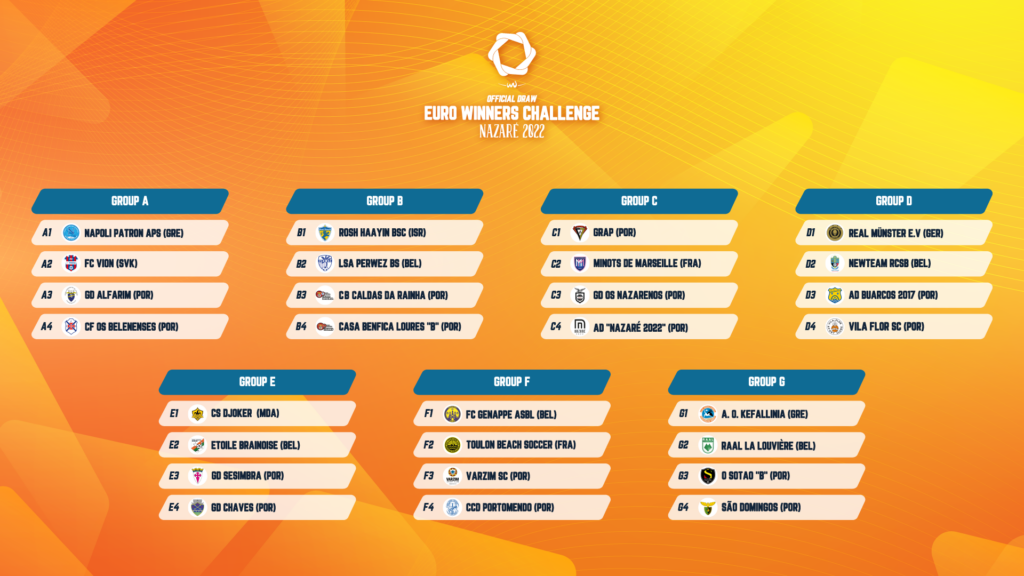 Napoli Patron (GRE), Rosh Haayin (ISR), GRAP (POR), Real Münster (GER), CS Djoker (MDA), FC Genappe (BEL) and AO Kefallinia (GRE) were drawn in the top seeds.
Two teams from the Euro Winners Challenge will reach the Euro Winners Cup.
A total of 60 men's and 18 women's teams will travel to Nazaré in search of continental glory.
See you in Nazaré!