The competition kicks off tomorrow in the Sardinian city.
---
Teams had the official training sessions, and the event was presented at the press conference: all is ready for the 26th edition of the Euro Beach Soccer League to kick off. The men's Division A will get action underway this Tuesday, while Division B and Women's tournament start on Wednesday.
WATCH ALL MATCHES LIVE ON BEACHSOCCERTV.COM – SIGN UP HERE!
The press conference began with a greeting from the Mayor of Alghero, Mario Conoci, who thanked the organizers for choosing the Sardinian city.
Then, the Vice President of LND and President of CR Sardegna, Gianni Cadoni said: "We have beautiful memories of this city because, in addition to bringing luck on the field, it has all the ingredients to meet the needs of beach soccer. On the field, there will be approximately 1500 athletes supported by a staff of 150 collaborators. I am convinced that the decision to organize the European and World Championships here will be rewarded with results and the appreciation of the people."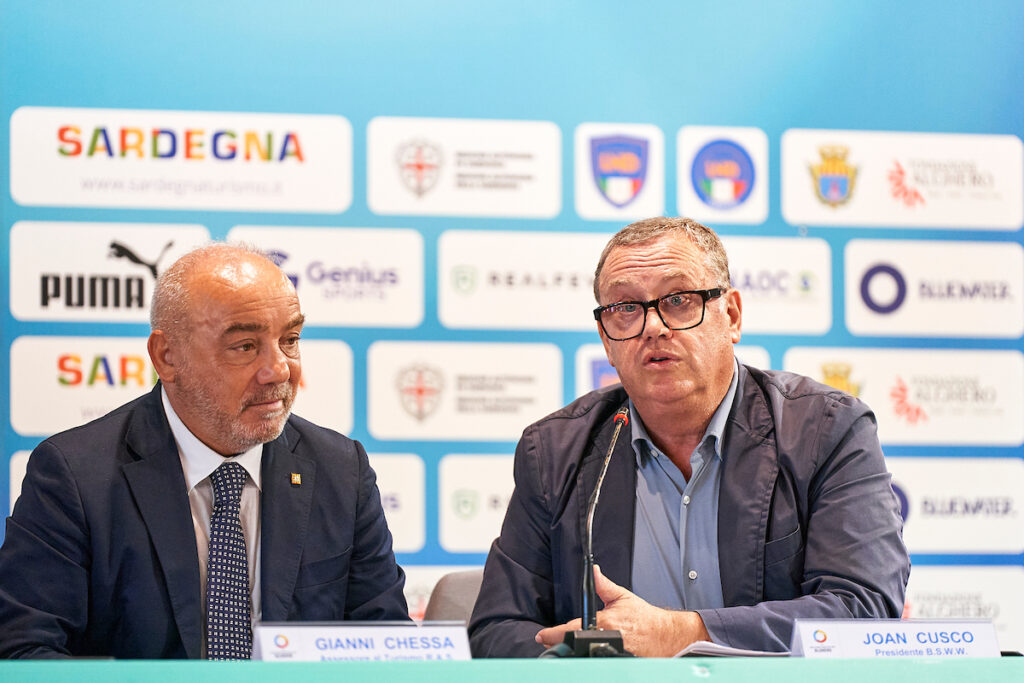 After greetings from the President of the Fondazione Alghero, Andrea Delogu, who thanked for choosing Alghero and recalled the great opportunities of sporting events, the microphone was passed to the President of BSWW, Joan Cuscó: "Thanks to Assessor Chessa for a sports project that has become long-term. We find ourselves here today and for another year with the confidence that we can work well." Then, a greeting to the teams: "Everyone makes significant efforts to promote beach soccer. I want to thank you; know that we are proud of you."
Then, Roberto Desini, Coordinator of the National Beach Soccer Department LND stated: "I congratulate Assessor Chessa for the support and opportunities he provides to our discipline and our Island. The approach of the Region has allowed sport to join significantly with tourism, even and especially outside the summer season."
Next up was Gianni Chessa, Assessor for Tourism, Crafts, and Commerce: "Events like this bring people, opportunities, and the economy to the region. Sardegna has become the island of sports. Nobody believed it, except for the practitioners themselves. I thank all the officials who often work voluntarily. Sport is also a social, recreational, and promotional activity. We are achieving great promotion of Sardegna through sports."
Click here to check the fixtures of the Euro Beach Soccer League Superfinal Alghero 2023.